VirTual Safe Zone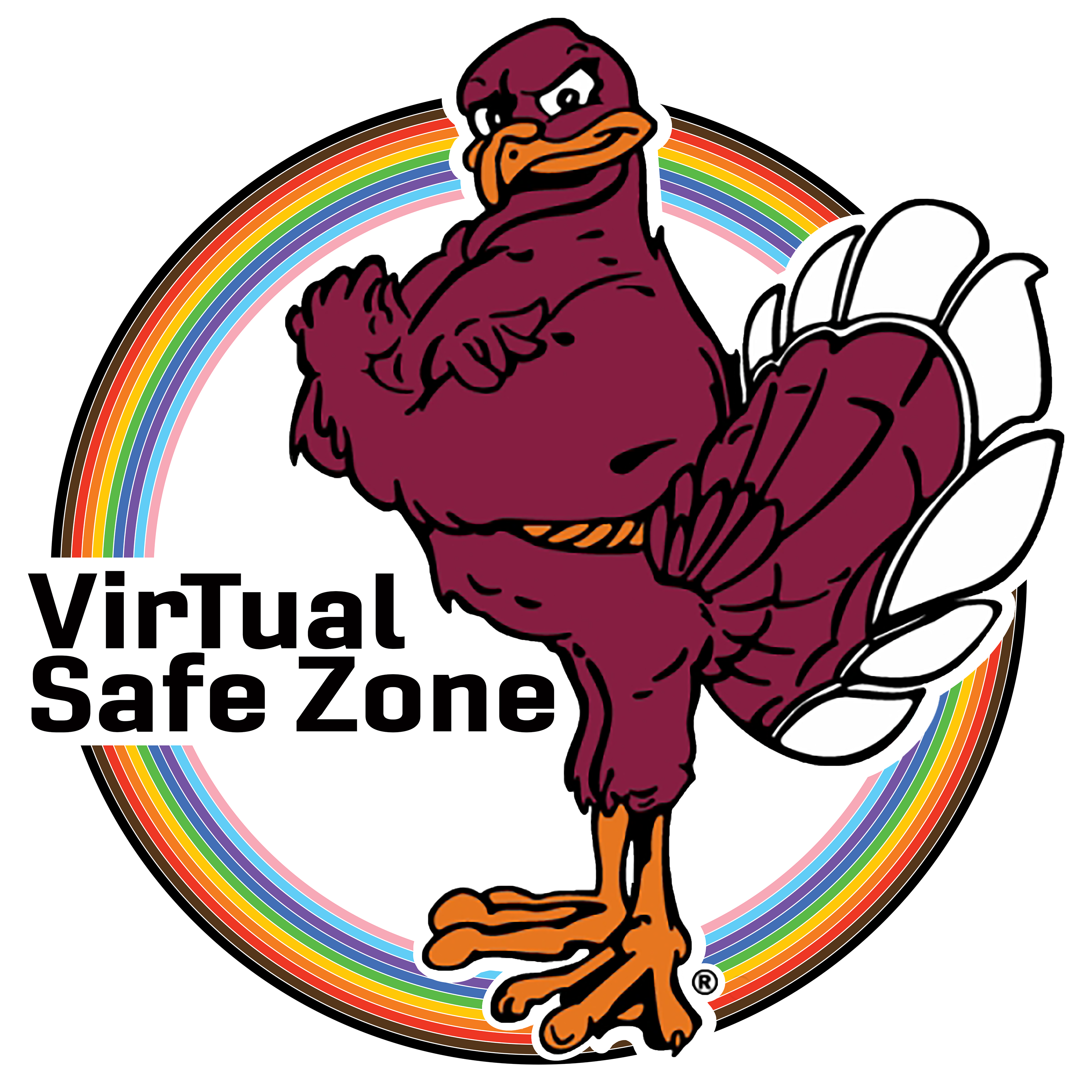 VirTual Safe Zone is an online 5-week intensive course with weekly readings, writings, and a live discussion lab. The curriculum is meant to assist with the development of content knowledge.
The course curriculum delivers basic information to begin your development of content knowledge.

The readings are meant to help deepen your scope of the topic.

The discussion board reflective writings provide the opportunity to explore your thoughts, feelings, and questions.
The live discussions engage you in conversation with one another and allow for questions to be proffered to the group.
VirTual Safe Zone is a complete/incomplete personal and professional development opportunity offered to the Virginia Tech community that addresses LGBTQ+ identities and issues. All readings, assignments, and discussions must be submitted and attended in full. Therefore, participants should enroll in a section that matches their availability on Fridays for the following 5 weeks.
At the beginning of each week, participants are expected to familiarize themselves with the readings, draft responses to the discussion board prompts provided by their facilitators, and prepare to join their peers in a live discussion at the end of the week. Each participant discussion board post is engaged with by their fellow participants as well as the section facilitator. Upon the successful completion of VirTual Safe Zone 101, Teaching and Research (TR) faculty will receive credits towards the Computer Refresh Program. Only after participants successfully complete Virtual Safe Zone 101, Trans Safe Zone 101, and an elective course will they receive their Safe Zone placard.
Please Note: Safe Zone placards (or proof of completion) have historically been utilized as a "one and done" display of allyship i.e. "I am now a safe zone." While it would be ideal that such a training could accomplish this, we cannot and do not make such a claim. VirTual Safe Zone facilitators can only vouch that an individual has completed the readings, done the work, and earned credit for their efforts. Of course, it is our hope that you will learn, grow, and will go on to implement what they have learned into their day-to-day efforts. Safe Zone trainings are a starting point. There are always more voices to hear and more viewpoints to consider. It is our aim then to make "former Safe Zone participant" and "continuously informed and active ally" synonymous identities.
History and Mission
Established in 1998, the Safe Zone program was created as a collaborative effort between the Dean of Students; HokiePRIDE of Virginia Tech; the Lesbian, Gay, Bisexual, Transgender Caucus (LGBT Caucus); and the Office for Equity and Access (formerly the Office of Equal Opportunity).
During the Summer of 2020, after a period of inactivity, the Virginia Tech Safe Zone program underwent a thorough redesign led by former facilitators and the LGBTQ+ Resource Center Director. The new design requires a greater commitment from participants and offers a deeper scope of understanding.
About Our Safe Zone Facilitators
VirTual Safe Zone facilitator is a paid position. Those interested in serving as a section facilitator should contact Dr. Bing (anbingham@vt.edu).
Upcoming Training Sessions Dates
Fall 3: October 19th - November 20th
Spring 1: January 11th - February 12th
Spring 2: February 22nd - March 26th
Spring 3: April 5th - May 7th
Summer 1: May 17th - June 18th
Summer 2: June 28th - July 30th
Contact Information
Dr. Bing (she/her) - Director, LGBTQ+ Resource Center
VirTual Safe Zone 101 aims to:
introduce participants to contemporary introductory information regarding gender, sexual, and romantic minorities;

contextualize this new/refreshed knowledge with some of the complexity and nuanced characteristics of these elements;

provide the opportunity to engage in introspective or reflective thinking;

engage individuals in discussion with one another regarding their own understanding, feelings, and experiences with the course content; 

and encourage active allyship during and after the course has ended.