Martin Luther King Jr. Celebration
A Conversation with Ruth E. Carter
January 19, 2023 | 6-7:30pm
The Anne and Ellen Fife Theatre in the Street and Davis Performance Hall at the Moss Arts Center
This event is FREE and open to the public!
Get your tickets now
If you are an individual with a disability and desire an accommodation, please contact Michelle Carter at mdcarter1@vt.edu at least 10 business days prior to the event.
Ruth E. Carter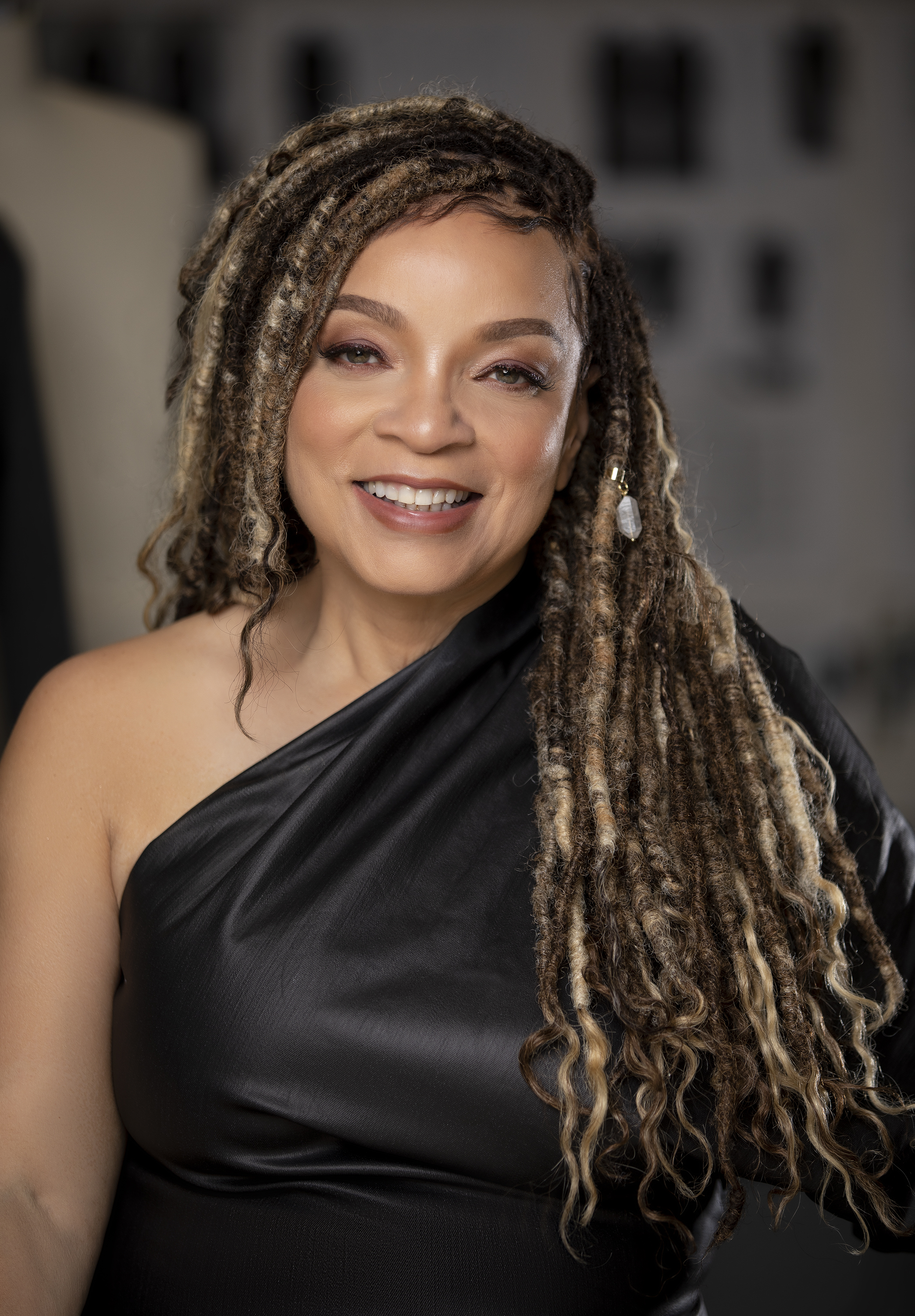 Ruth E. Carter is the 2019 Academy Award winner for Achievement in Costume Design for Marvel's Black Panther making history as the first African-American to win in the category. Carter wows audiences and dazzles critics alike with costumes inspired by traditional African tribal wear merged with a contemporary look delivering fashion and function, incorporating technology, and creating such authenticity, ownership, and empowerment for the characters and viewers; cementing her as one of the preeminent voices and experts on Afro aesthetics.
A career spanning more than three decades in theater, cinema, and television, Carter's depth of artistry flowing together with her creative instincts, passion for culture and history, empathy for people, enormous capacity for research, eye for detail, and ability to deliver the director's vision while infusing her art makes her one of the most sought after and renowned costume designers in the world; earning her over forty film credits including two additional Academy Award nominations for Malcolm X (1993) and Amistad (1998) and an Emmy nomination for the reboot of television mini-series "Roots" (2016).
Carter has collaborated with a myriad of directors and visionaries starting with Spike Lee in School Daze, and working with him on 14 films including Do The Right Thing, which is archived in the Library of Congress, Malcolm X, Mo Better Blues, and Old Boy. She joined forces with Robert Townsend making the iconic Five Heartbeats, with Keenan Ivory Wayans in I'm Gonna Get You Sucka, and gritty Baby Boy and Rosewood with the late John Singleton. Carter also created the costumes and look for the pilot episode of Larry David's "Seinfeld."
Her breath of knowledge in African-American history and art was sought after by Steven Spielberg and Debbie Allen and for the incredible Amistad. Carter continued to present outstanding work for period ensemble films in Lee Daniels' The Butler, Ava Duvernay's Selma and Reginald Hudlin's Marshall. Carter recently completed work on the first season of "Yellowstone," a television series starring Kevin Costner and directed by Taylor Sheridan.
Carter's brilliant bold 1970s urban dandy costume design work was recently seen in the Netflix film, Dolemite is my Name starring Eddie Murphy and directed by Craig Brewer for which Carter won the 2020 Critics' Choice Award for Best Costume. She can also be seen in Netflix's Original Documentary Abstract Season 2.
Her work is also featured in Coming 2 America, starring Eddie Murphy and directed by Craig Brewer, which premiered on Amazon on March 5th, 2021.
Carter is the first Costume Designer to cross over into fashion with a Conscious Collection collaboration with H&M featuring Carter's 90's street inspired look from early films. Carter's costumes tell stories so intriguing and memorable they influence music, fashion, culture, and film-making and help us to understand ourselves better.
MLK JAZZ BRUNCH

Monday, January 16 | 12:00-2:30PM
Moss Arts Center
THE THETA IOTA CHAPTER OF ALPHA PHI ALPHA FRATERNITY INC. PRESENTS
Dr. Martin Luther King, Jr. Day March
Starting Location: Peddrew-Yates at 1:00 PM
Monday, January 16, 2023
Reception immediately following in the Black Cultural Center (BCC), 126 Squires Student Center
Light refreshments will be served
NATIONAL DAY OF RACIAL HEALING
TUESDAY, JAN. 17
The National Day of Racial Healing is a time to contemplate our shared values and create the blueprint together for #HowWeHeal from the effects of racism. Launched on Jan. 17, 2017, it is an opportunity to bring ALL people together in their common humanity and inspire collective action to create a more just and equitable world.
Antisemitism and Racism in the Age of Kanye
Wednesday, January 18 | 6:30-7:30PM
Location: Black Cultural Center (BCC), 126 Squires Student Center
Faculty panel on antisemitism and racism in pop culture rhetoric
Martin Luther King Jr. Celebration Week Food Drive
Bring donations for the Market of Virginia Tech Food Drive when attending Ruth E. Carter's event for the Martin Luther King Jr. Celeberation.
Moss Arts Center
Thursday, January 19, 2023 
Doors open at 5:30 PM
Event starts at 6:00 PM
Cassell Coliseum
Black Cultural Center

Squires Student Center Room 126

VT Engage

417 Clay St. SW (0168), Blacksburg, VA 24061

Moss Arts Center
Virginia Tech Carilion School of Medicine Café  


2 Riverside Circle (directly adjacent to the atrium)
Roanoke, VA 24016

The Inclusion Center

1 Riverside Circle Room 205B Roanoke, VA  24016
Living, Learning, & Adaptive Landscapes:
How Evolutionary Biology Can Help us Navigate it All
Friday, January 20 | 12:00 PM EST
Steger Hall Auditorium
C. Brandon Ogbunu is a computational biologist whose research investigates complex problems in epidemiology, evolutionary & population genetics, and evolution. His work utilizes a range of methods, from experimental evolution, to biochemistry, applied mathematics, and evolutionary computation. In addition to his faculty appointments, Ogbunu is a Contributing Editor to WNYC's Radiolab, and he has written several popular essays for Wired (where he is a regular contributor).
Celebrate Black Love
Reception: Friday, January 20 | 5:00 - 7:00 PM
Location: Perspective Gallery, 2nd Floor Squires Student Center
Free and open to all
Gallery Hours (January 17 - February 26, 2023):
Monday 6:00 - 9:00 PM
Tuesday - Saturday 12:00 - 9:00 PM
Sunday 1:00 - 5:00 PM
Thank you to our sponsors for making this event possible!
Office for Inclusion and Diversity
Office of Student Affairs
Moss Arts Center
Virginia Tech Athletics
College of Architecture, Arts, and Design
Center for Humanities
Fashion Merchandising and Design Program
College of Science
College of Natural Resources and Environment
Division of Information Technology
Cultural and Community Centers
University Libraries
Women's Center
Diversity, Equity, and Inclusion Team at the Virginia Tech Carilion School of Medicine
Carilion Clinic
Theta Iota chapter of Alpha Phi Alpha Fraternity
Black Organizations Council (BOC)
Black Student Alliance (BSA)